"Only through food can we truly connect with a culture and people, break down our walls and preconceived notions, and really connect with our communities."
-Founder, Mariam Elghani
"I wanted to create something that connected with my heritage but was also fun, innovative, and delicious."

Mariam worked alongside her family in her parents Lebanese restaurant chain in the Silicon Valley for 10 years. She grew up in an environment where food innovation and business savvy became second-nature. No matter what direction life led her in, she always found her way back to a kitchen exchanging ideas with her dad about their vision for what is now ​Garlic Goodness, Lebanese Food Co.
---
Powered by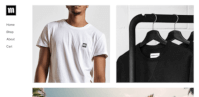 Create your own unique website with customizable templates.